Outlined below are some different options – let's find what is right for you!
Pilates is the fastest growing form of exercise in North America, with excellent results in fitness and rehabilitation.
Benefits of Pilates include:
Improved core strength and spinal stability
Improved posture and body awareness
Improved Muscle balancing and strengthening
Reduction of pain, stress and tension
Injury prevention
Increased balance and coordination
Enhanced sports & athletic performance
Option 1: Join a Foundations Class
These Pilates Classes Offer an introduction to the Pilates basic principles and essential exercises to establish core strength and stability, body awareness, improve muscle tone and improve posture and alignment.
Combo Foundations (reformer and stability chair)
These classes are offered at variable times dependent upon demand and studio availability.
Please contact the Pilates Studio Coordinators for available times.
Registration is for a 1 month period.
Pricing:
Combo Pilates: $28/class for 1x week, $25.50/class for 2x week, $23/class for 3x week
Please refer to our studio policies for information regarding absences in a session. Policies are flexible.
**If you have injuries or specific goals/needs,  private instruction for initial training is highly recommended. This enables you to get the most out of your experience in a safe and controlled environment *
Option 2: Buy a Welcome Package of 3 or 4 Private Sessions
Reduced cost of 3 or 4, 55 Minute-long private Pilates training
Learn the foundations and principles of Pilates one-on-one
You will have a thorough assessment and private instruction to guide the Pilates program to your specific goals/needs. All equipment training is available (i.e.: reformer, chair, cadillac).
These sessions can be booked at your convenience.
After completing the Welcome Package the Pilates Instructor will help you transition into the appropriate class level.  If you prefer, you can continue with private sessions. Click here to see our Private Pilates pricing.
Cost for 3 private sessions $210 (savings $30)
Cost for 4 private sessions – extended Welcome $280 (savings $40)
*This package expires 1 yr. from purchase date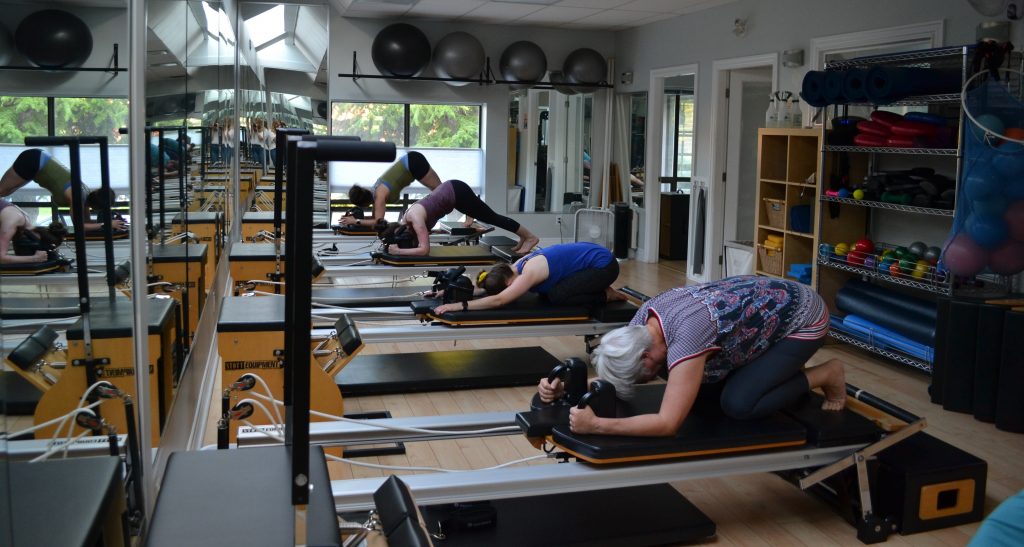 Option 3: Clinical Pilates Program
If you are under the care of one of our Clinical Pilates Trained Physiotherapists you may be eligible to have your Pilates covered under your extended health care plan.
Clinical Pilates is a goal-directed rehabilitation program outlined and overseen by one of our Shelbourne  Physiotherapists and carried out by our clinical Pilates instructors working as Physiotherapy Assistants. These instructors have specific training and experience to work with injuries and rehabilitation, and are fully insured members of the Canadian Physiotherapy Association as Physiotherapy Assistants.
The cost for a 55 Minute session is $95, and is HST exempt. Receipts will be issued through Shelbourne Physiotherapy with the supervising Physiotherapist as the provider.
Steps to qualify:
1. You must be assessed by a Physiotherapist at Shelbourne Physiotherapy clinic
2. You must have a Dr's note recommending "Physiotherapy Core Exercise Rehab" with a diagnosis (We can send a referral request to your Dr. if you have seen them recently)
3. If your extended health care plan does not cover treatment by a Physiotherapy Assistant, we recommend booking regular pilates private sessions.
Please contact our Studio Coordinators Shiva, Freesia, or Jayda at any time to discuss these options and find the right choice for you! Please be mindful that we are currently taking a waitlist for this program due to high demand.
If you are interested in our Pilates Sessions or Kinesiology/Exercise Rehabilitation please contact our Studio Coordinators Shiva Charleson, Freesia Dorval and Jayda Louzon by telephone or email any time.
Telephone: 250-598-9828 ext 2
Email: pilates@shelbournephysio.ca